As I was sitting in the crowd during the opening keynote at Blog World 2011 Los Angeles I was awestruck. This was the first conference that I had ever been to and it was overwhelming, in a good way. Seeing Peter Shankman speak so easily about rocking some of his ideas got everyone excited. Even though I felt the same excitement I started thinking, "why am I excited? What is he saying that is speaking to me? How is he saying it that speaks to me? What is his thought process to grow this idea or project?" This lead me to start thinking more about the people that we put on pedestals and why we put them there. Luckily I met some of the other speakers a little later after all of this had been going through my head. Talking to them was further research into these questions and the key thing I learned from it was to look at everyone and everything in a different way than I previously had.
There is a mentality that helps some people exceed where others fail. This is the champion mentality. It has been called many different things by many different leaders. Many leaders never could pinpoint what it is that made them a leader or why they did a certain something in a certain situation. I would like to find out more about this a encourage people to work on some these traits to become the best in their own lives.
Greatness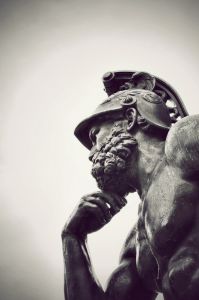 There are many different thought patterns and shifts that can take us all in very different directions. Some will help lead us to greatness, which is different for all of us based on our own rating metrics. Because of the thousands of different traits that each of us have we all can be great in so many different ways. My goal is to find some commonalities between the champions in each region and why a certain person is thought of as great.
When we label someone great or think that someone is successful, it is often because they make us feel that we are that way as well, or at the very least, we can achieve it. This feeling is what keeps the dream alive and the passion behind the dream is what makes it achievable. Many times we empathize in certain ways with champions and feel as though we are in their place in that moment and it makes us feel like a champion.
Pre Greatness
Have you ever felt like you were stuck in a rut while everyone around you is starting to have awesome things happen to them, ie. they got the job that you didn't, they have friends when you don't have friends, etc. Some people call it failure, mediocre, despair, why me?, unfair, or underwhelming. I like to call it Pre Greatness and I'll tell you why.
After a crushing depression based on my own body's chemicals added to some severe emotional situations that I had encountered I found myself spinning my wheels in a rut of blah. I still had some great moments and some bad moments but it wasn't consistent or predicted.
I then developed the mentality for quite a while that everyone else got the things they wanted but I never got what I wanted. I wasn't bitter about it but I definitely thought I was just unlucky or that I was being punished unfairly. Now I see things in a completely different way.
Now I see that everyone has greatness inside them and it's up to them to find it and share it with others. That is why I call it Pre Greatness. The bottle just needs to be shaken up and opened to let the greatness out others.
Conclusion
We all have the a champion inside us. In order to let it out we need to be our life's champion and lead ourselves to greatness. It's important to keep looking at things in different ways so we can see where we are going and make sure that it is in the direction we are hoping to go.